Why Party at Northwest Gymnastics?
BECAUSE PARTIES ARE FUN, SAFE, NEVER DULL OR BORING, & YOUR GUESTS WILL NEVER FORGET IT!
When you decide to host your child's next birthday party at NGTC, you're guests will be treated to an extra special birthday celebration.
Invite you're guests to arrive at your scheduled time ready to party, and the gym is yours!  Our specially trained party staff will quickly cover some basic rules of safety, & once everyone has filled-out the required paperwork (just takes a few moments), your party goe'rs are turned free to play on all the gymnastics equipment.   Just look at some of the fun equipment they'll have to choose from;
Trampoline:  Watch the thrills and excitement on each child's face as the run and jump, tumble and flip down the 35′ long trampoline to end on a bed of foam in our foam PIT!
Beams:  "Just like the Olympians", the kids can balance on any beam from the Floor Training Beam, to the 4″ wide, 3′ high Advanced Skills beams.  Try a handstand or a back-walk-over…just for fun!
Bars:   Always a favorite, the Uneven Bars allow kids to explore their wild sides as they spin around the low bar, jump to the high-bar and cast into a full-handstand (ok, well, their is no failure in trying!)
756Floor:  We've all seen the Olympians seemingly bouncing on the floor and leaping feet above the floor.  Well, here's your chance.   Come out and tumble on the same type of floor the Olympic Gymnasts use!  And our staff are even specially trained to assist the children to learn basic skills!
Vault:  It looks impressive from the sidelines…wait till you give this a try!  Run down the vault-runway and onto the competition grade vault table, landing gently on a soft bed of fluffy, clean mats!
Bonus!:  As if all that wasn't enough, climb one of three ropes to the ceiling!  Or, give your hand to the small obstacle course, hoola hoops or dance your heart away to the sounds of your favorite music!
Schedule
Yours
Today!
90 Minutes starting at just $200*
*Price is for 1.5 hours and 11 attendees MAX. 2 hour parties are available for an additional $25 charge. Additional Birthdays at the same party will be $25. Additional kids, after the first 11, will be an additional $10 each plus a $25 charge for the main party room. Non-Members will be charged an additional $25. The entire gym may be reserved 2 hours for $750.
Your child and up to 11 guests will play for the first 45 minutes.  Balloons and colorful decorations will further impress your friends!   And they will love all the energy the kids wear off in the warm, safe environment.
Then it is time to open gifts and have treats.  The kids will have a very special experience of getting to have cake / treats (parents supply the treats) in the actual NGTC Team Room!  That's right..And, as your child is opening gifts, our staff will write down who gave your child what gifts, making your job easy to send thank you notes afterward!
Finally, free-play is encouraged for all time remaining  It simply couldn't be easier!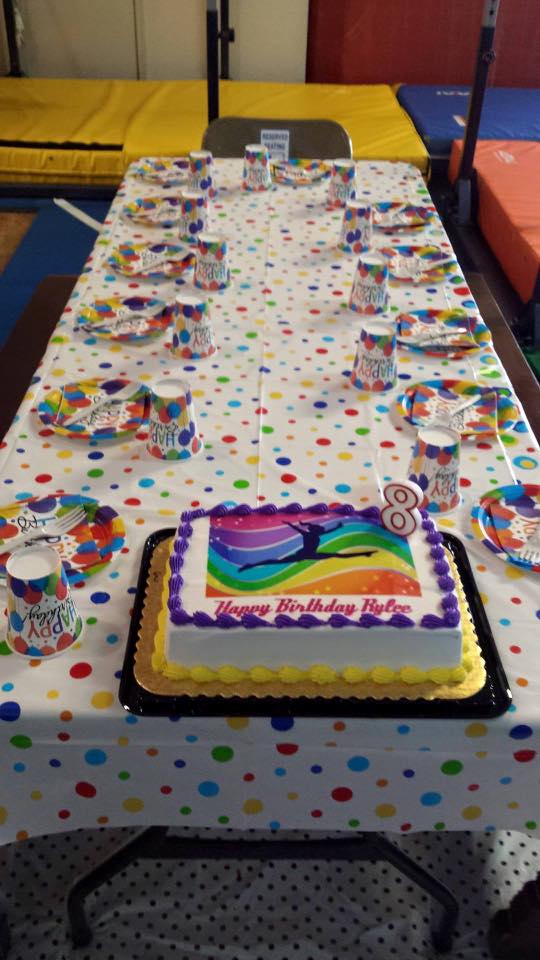 HOW DO I GET STARTED?
Call or send us an email to get your next party scheduled!  We require 50% non-refundable down payment to hold the time, with the balance not due until the day of the party!  And remember, you can pay with Cash, Check*, or Credit Card!
For more information please call us at 503-492-4115 or email us at office@nwgymnasticstc.com.
We have an incredible assortment of other party options available for your events. There are countless ways we can make our facility the place to host your next party in the Portland, Oregon metro area.
Make it a party to remember.  Make it a Northwest Gymnastics Party!