Voted 2019 Oregon Xcel Club of the Year!
Competition: Merriam-Webster defines it as: the act or process of competing.
History reminds us that people have competed with others for as long as there have been people.  The goal of the NGTC Coaches is to prepare our athletes (young boys and girls) for a lifetime of competing.   Whether it be for a job, entrance into the best university or Olympic Gold, you simply can't achieve all your goals without knowing how best to compete.  All our team athletes are learning how to compete…and along the way, champions emerge!
What Websters fails to recognize is that 99% of the competition a gymnast faces is with themselves.  We teach and encourage ALL our athletes to be first-class competitors by respecting other athletes, teams and judges.  However, we empower them by providing each the tools for gaining that all important inner strength to overcome obstacles and achieve personal bests! That is what we believe competition is all about…striving to achieve personal bests…every day!
Our program is designed for Junior Olympic competitive levels 1 to 10, and our USAG Xcel program Bronze, Silver, Gold, Platinum, and Diamond. With a full assortment of training equipment and all apparatus, we invite your gymnast to give our professional coaching staff a try!  You won't find a more positive, safe and fun environment for your gymnast!  Just ask our parents!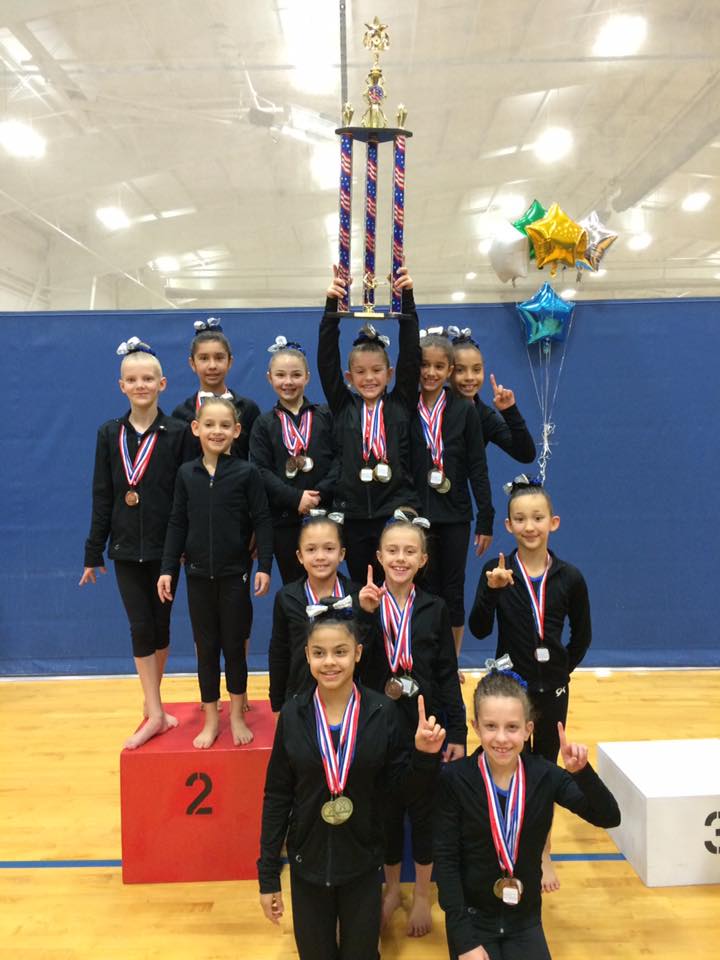 NGTC's nationally ranked competitive Teams are by invitation only.  If you are looking to join us from another gym or area, please call or email to schedule a trial.  Space is limited and reserved for those athletes that possess a sound work ethic, strong competitive drive to improve, and ability to be a great teammate and supportive family.
Our gymnast families join us from around the Portland Area, and, although we accept a low percentage onto one of our JO Teams, all are welcome to try-out.
And, most importantly our team is not just about winning and creating champions. It's about fun, family & personal growth. Our families participate  in special events throughout the year including hosting Olympic Gymnast Chellsie Memmel (pictured above), sleep-overs at  the gym, team parties, optional camping trips and more as a     team.
Follow our progress on our official Facebook page or our NGTC JO Team page.
"Love this place!!! Have a kid on a team for over 3 years and wouldn't go anywhere else. Don't let other reviews scare you off. This gym is straight forward about the fees and never charge your card without permission. If you have questions and want to talk with the owners or a coach it's simple email and ask for a meeting. I have done so on several occasions and not had a problem. Treat them as how you want them to treat you it is called being an ADULT."