We are extremely proud of the progress each of our hundreds of students is making in gymnastics, coordination, strength, flexibility and confidence. Our Recreational gymnastics program is booming and learning more than ever, which is fueling our Junior Olympic and Xcel Teams!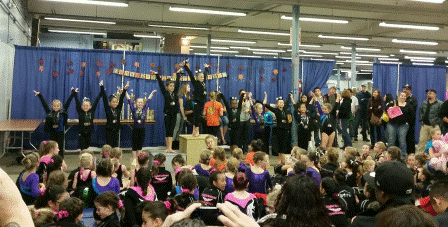 For the 4th time in 5 meets this season, our JO Level 3 Team improved across the board and brought home another first place trophy. It was the teams first visit to Southern Oregon this season. Every NGTC level 3 gymnast scored 9.0 or higher on Vault and recorded many personal bests enroute to a team score of 113.375.
Congrats also to our Level 4 Team. At the same meet, they recorded a team best score for the year, and took home the all-around individual title. NGTC's Rachel Hardy captured the crown with 37.00, and individual event titles. Natalie Weed also scored a strong 36.175.
Look for more themed open gyms this holiday season! Open Gym'ers are loving the new equipment, slide and games that have become a staple at NGTC Open Gym's.
Remember Parent's Night Out Open Gym is open to all NGTC Members and Non-Members, and is every Friday Night from 7-10pm Kid's Night Out Open Gym is the 2nd and 4th Saturday's and runs 5-9pm and includes Pizza! Indoor Play Park Open Gyms also run for an hour Wednesday from 11-Noon, and Saturday's at Noon!
#ngtcrocks!